How many things do we see wrong here ?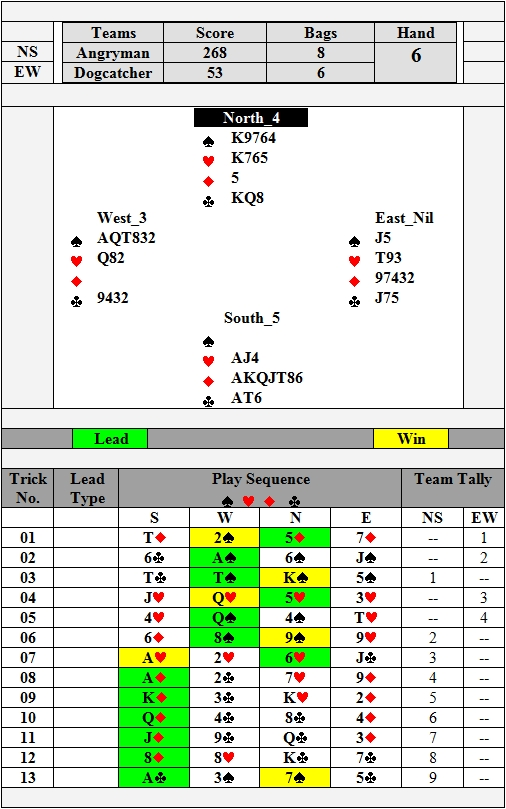 ---
Active Poster
Posts: 95
Joined: Sun Jan 29, 2006 4:22 pm
I'm not really sure what was rewarded here and what we're supposed to take from this, clearly all 4 players are novices and every player at the table played this hand very poorly -- whats the point of this example and what are we supposed to be looking at specifically? The funny thing is, the player who made the worst errors was not rewarded and proper justice was served.
---
Very astute dustin and while I venture off to search the 5.4 billion billion billion deals for the perfected situation to present an argument... well please do not expire for I will be back in say a million years. Or! We can do the more practical thing and explain what is going on and the type of mistakes that are being made. Perchance even the right approach to take and why. Back in the day of sanity we used too call this folly notion"being instructive!"

So sir Dustin if it would not be too much of a bother, how about a proper response or save the drivel as you are not being instructive!
---
Guide
Posts: 878
Joined: Fri Feb 08, 2008 10:44 am
Location: Perth, ON
Guess I would be a spade novice, so if there are lessons from this, I'd like to know. What I see is East bid and made nil, and North bid 4 and made 4. South probably didn't bid more than 5 assuming at least one of those high diamonds would be trumped and having no trumps himself, and taking 6 on a 5 bid isn't so bad. North bid 4 (three kings and deep trump suit makes sense to me). The only issues were that perhaps they could have forced east to take a trick and miss nil with that Js. West bled out trump suit fast in order to make their bid which made opened up South to run diamonds.

Not too many bags taken and bids seemed in line with cards dealt except I may have been 4 or 5 if I was West. I am sure there's a lot of advanced spades strategy not used here (e.g., how you signal what cards you have), but in all, play wasn't that bad for novice spade players. I would have played West differently with a higher bid (4 or 5) and leading non-trump in hand 3. Perhaps that would have ended worse though.
-Brian

"Come Sail Away with me...."
---