Everyone enjoy yourselves over Christmas, stay safe and enjoy your holidays..........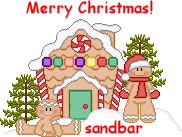 ---
Guide
Posts: 5343
Joined: Wed Feb 09, 2005 1:29 pm
Location: North Ga Mts
Merry Christmas Sandy and ALL!!!
JUST DUST
TO BE OR NOT TO BE..... NOW WHAT KIND OF QUESTION IS THAT??? TO BE OF COURSE!!!!!
---