Have a great day, Ves, big hugs, Sandy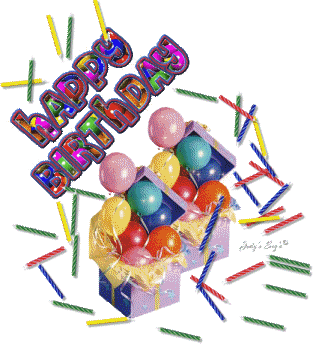 ---
Guide
Posts: 814
Joined: Fri Aug 22, 2008 4:04 pm
Location: ohio
happy birthday ves and many more to come

from luvcookies and family
---
Guide
Posts: 3660
Joined: Sat Nov 20, 2004 1:28 pm
Location: Mo USA
Contact:
Thanks for being a favorite pard of mine, and I know many others feel the same way about ya! We love ya girl!
---
Active Poster
Posts: 428
Joined: Fri Jul 06, 2007 7:18 am
Location: Kansas/ where Sheep are vermin
Happy Birthday Ves.
---
TY ALL MY FRIENDS LOVE YA ....SPECIAL HUGSS FOR CHER AND SAND!
---
Guide
Posts: 5344
Joined: Wed Feb 09, 2005 1:29 pm
Location: North Ga Mts
Sorry I'm late, Happy Birthday Ves.... been in the hospital
TO BE OR NOT TO BE..... NOW WHAT KIND OF QUESTION IS THAT??? TO BE OF COURSE!!!!!
---
Guide
Posts: 725
Joined: Thu May 15, 2003 1:55 pm
happy birthday ves sorry i am late too, i will be as old as you one day LOL....big hugs.
---
A very Happy Birthday Ves. Wishing you many more.
:"You cannot add to the peace & goodwill of the world if you fail to create an atmosphere of harmony and love right where you live and work".
Thomas Dreier
---
happy belated birthday Ves sorry so late gettin to ya hope it was a great one hope ya have many more
"Today is the tomorrow you was thinking about yesterday"
A
K
A
---
Active Poster
Posts: 25
Joined: Sun Mar 22, 2009 11:36 am
Location: Ontario Canada
Happy Birthday Vessy! I am really late eh but that's ok i am not sorry in the slightest due to the fact you always PNP me when you are my pard!!!!! and oh ya you always eat Q just because she tastes good to you
lmao!!!!! Anyways hon all joking aside you are getting to be old woman now hehehe almost as old as me
Happy Birthday hon!!! huggsssssss
And That's The Bottom Line cause the bald guy with white sideburns SAYS SO ... just ask Sandbar hehe...
---