Active Poster
Posts: 20
Joined: Thu Mar 30, 2006 9:04 am
ok im in for the tequila...but im voting for indy
---
I have been with Hardwood Euchre for about five years and this is the frist time i have post here..Visit it often just to be noisy but this as peek my interest. So please forgive me if i haven't did this right.. I would love to meet all those great euchre players that have taken all my points and given me theirs (HAHA!!!) The frist weekend in May 2008 would be awesome as after that camping start's (HEEHAW) and for me the location would have to be Toronto for it is a great city and as you all know Canadian beer is great !!!!! . Thank you for letting me have my say.. If there is any new info on this plz let me know!!!
---
Active Poster
Posts: 81
Joined: Thu Nov 06, 2003 2:50 pm
EUCHREtimesTWO wrote:i'm down for sure. I'm from ohio, so obviously i would like cincinnati, but as long as i'm not traveling really far i'm in.
p.s. i think an award for last place should be made, that way amalthea won't get left out
LMAO Dave is in da house. Welcome back hon
Cancel my subscription to the Resurrection
---
Omg the Croatian has reappeared. Barman can ya make a Croatian Black Russian? plenty of Ice please with xtra thin straws for maximum effect. Hehehehe.

Eennie Meenie

The G
---
Active Poster
Posts: 412
Joined: Wed Jan 14, 2004 10:48 pm
Contact:
Hello everyone! Here is the latest information on the Grand Prix, and the "live" events: Firstly, the Grand Prix has been sold, and next year there will be two major "live" events.
We have two cities selected as "finalists" for the first '08 Grand Prix "live" Euchre event. Chicago or Indianapolis. The date will be the first weekend of August.
The Grand Prix "live" TOC will be in Las Vegas in the first weekend of
October. It will feature a Convention for Card Players, and the Main event (Tournament) as well.
And I am willing to direct / host a "Canadian Open" Euchre Tournament in Toronto or London, Ontario, if someone in either of these cities is willing to help with the organization. The dates would be May 2 - 4, 2008.
Please contact me via e mail -
Heartsmoon@aol.com
I know that a Euchre event in Canada will rock, as there were many 200+ player tournaments there way back in 2000 and 2001. Why not make it happen again?
Happy Holidays!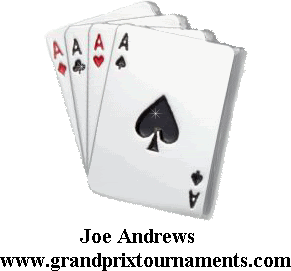 ---
I have been to several of these Hardwood gatherings, in both Michigan and Florida. They are a great way to meet people and are a lot of fun. I have never regretted any of the gatherings I have attended and have made friends taht I will treasure for the rest of my life.
---
Active Poster
Posts: 33
Joined: Sun Jul 24, 2005 10:05 am
Location: Gillingham UK
[
b]what a good idea

where to hold it well thats easy in England that allows the europeans to travel to the torney and the americans canadians and our cousins from down under are all welcome and i can go to

[/b]
and the tequila cheap
too cowboys chick
stay lucky in love,life and cards
---
Active Poster
Posts: 20
Joined: Thu Mar 30, 2006 9:04 am
ahhhh tryin to bribe a gal with cheap tequila......a full bottle wouldnt get me on a plane to cross that pond..well unless i drink it before
---
Active Poster
Posts: 33
Joined: Sun Jul 24, 2005 10:05 am
Location: Gillingham UK
its in the post girl
stay lucky in love,life and cards
---
I have to vote for Indianapolis, then I will certainly be there. We really do have a nice city.
Just don't make it in May, way too congested.
---