Oh you guys. Just try n deny ya loves me. But no, I didn't spend the night with dust or primal. I gotta admit it, it was ez's good looks and his prime catfishin boat that turned me on.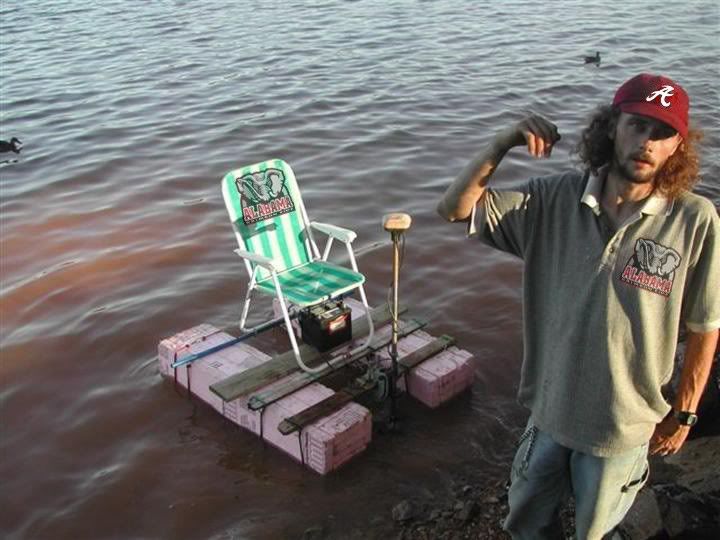 We spent the night in Ez's fancy schmancy mobile home.
Next mornin we was drivin past the church n saw this sign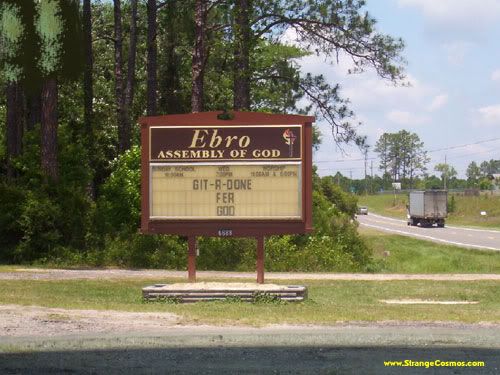 He took it to heart and says we gotta do this right. Needless to say, I didn't see much of the outside fer a week. Ez says I'm the most excitin be-A-utiful girl evah. He says to leave my eyebrow jes the way it is. The next weekend, we was drivin past the church agin and there was a new sign.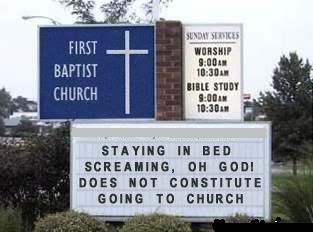 Oh man was Ez evah upset. He says we should part fer awhile n think about what God wanted. So I wents home ter visit with dad's wives.
After a week, lil Ezrider was berned. I know he's yurs Ez cuz he was berned right after you and I was countin da fleas we picked off'n each other n that sweet ez lovin. So romantic. Say hi to yur papa lil ez.
Well I guess that's all fer now. We'll be up fer some more o that excellent possum real soon now ya hear. U is some man ez! But befer I comes up, I'm goin Primals way ter visit. He says he has some real xcitin things ter show me round his neck o the woods. I'll be sure ter send y'all some pictures.